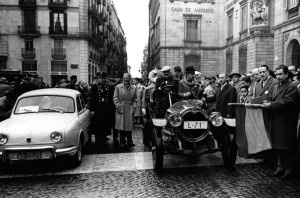 The first edition of the Rally was held on 8 February 1959, with twenty cars. Since the first edition, the exit from the Sant Jaume Square hosted a multitude of visitors. The Mayor, Mr. Porcioles had to give out, but a sudden, it was Mr. Juan Antonio Samaranch (right with the Spanish flag) responsible for giving out. In the picture, one GEORGES ROY 1904 with registration from Lleida to point out the Plaza Sant Jaume.
The caravan took the road already, at that time, the only road linking Barcelona to Sitges, the road to the coast. In the photo below, a DELAUNAY BELLEVILLE with participants in period costumes, one of the keys to success of the event. From the beginning, the organization set a condition that the vehicle occupants participants were dressed according to the time of manufacture of your vehicle. The reason for this condition is that the rally was part of winter festivals of Sitges and Sitges Carnival is celebrated by those dates, favored this condition was accepted with enthusiasm.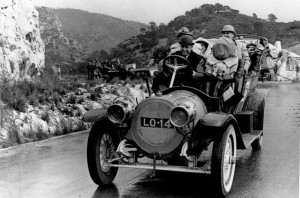 In the beginning, the Rally was conceived as a sporting event regularity during the stretch of the Garraf coast, where the vehicles had to maintain the same rate of descent as Coasts rise. This "sportsmanship" was regulated under the rules of the FIA.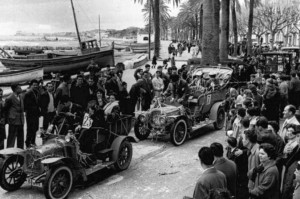 Arriving in Sitges, participants marched along the Passeig de la Ribera until the Fragata, where as today, they were received by the authorities and parked cars to the pubic could admire them.
The announcement of the Rally success encouraged the organizers to organize the following editions, which ended up shaping the current rally.
There are many images and videos relating to the network as the Rally … when we compiled, we will upload on the Web